Let us be your eyes and ears in the media markets. Key decision-makers appreciate the extra edge that comes from receiving timely, strategic information.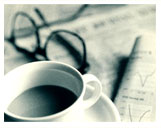 ProFacto Research offers a customized approach to your information needs. Our research methods incorporate the latest technology but are not automated response systems. This means you receive the expertise of a real person who understands your strategic goals and can provide you with the most relevant information in a timely manner.
Public Affairs and Communications executives, Marketing managers, and directors of strategic divisions will be a step ahead with alerts on:
Media Image--your company or organization's image and presence in the media;
Competitor Information--latest news about your competitors and their image in the media; and
Industry Information--trends in your industry and the environment in which you are operating.
Features of Media Monitoring Reports:
Complete monitoring of print, online and broadcast media
Morning distribution of full-text news reports to your e-mail or website
Daily weekday delivery; weekly or special delivery schedules may be arranged
Urgent/emergency service available
Health care, pharmaceutical and biotech industries are our specialty